Name: Yayasan TM International Tower Run 2019
Date & Time: 10th Nov 2019, 7.00am
Venue: TM Tower
Racecourse: 1,296 Steps, 200 Meters, 54F
Point Factor: 120 Points under TWA Towerrunning Tour 2019
Organizer: Yayasan TM & Malaysia Towerrunning Association & JomRun
Contact Person: Pn. Zulitha
Email: zulitha@tm.com.my
Hosted by: Telekom Malaysia
Timing Chip Service Provide: Track Asia
Total Number of Participants: ~1300 Pax from 40 countries as follow: Australia, Bosnia and Herzegovina, China, Denmark, France, Germany, India, Indonesia, Japan, Kenya, Nepal, Philippines, Poland, Portugal, Singapore, South Africa, Taiwan, Ukraine, United Kingdom and USA.
Objective: Fund raising for Yayasan TM for students from less fortunate families who are unable to fund them for tertiary education.
Remark:
In conjunction with 25th Anniversary of Yayasan TM, Yayasan TM would like to bring in the first ever highest point factor race worth 120 points under TWA in Malaysia. It was the first ever Individual Flag off Towerrunning Race in Malaysia and the race also invited World Class Towerrunners from Germany, Poland, UK to come and take part in it. The race featured Male World No. 2, 4, 11, 49, 60, 100, 119, 136 and Female World No. 7, 9, 31. The invited male athletes are World No. 4, Goerge Heimann from Germany and Mateusz Marunowski from Poland, while the female athletes are World No 7, Ilona Gradus from Poland, Sonja Shakespeare from UK.
The race was sanctioned by Malaysia Towerrunning Association and Towerrunning World Association. The race was sponsored by REV Rehabilitation Centre, Unifi, Domino's Pizza Malaysia, Tenaga National Berhad, California Raisins, and Potatoes USA. Official safety partner is Bomba Malaysia, and Official airlines partner was Malaysia Airlines and product sponsors were from MMU. Other than that, this event also obtained some other products sponsored by Master SY – Physiotherapy Treatment, Nestle Malaysia – Milo, Breakfast Cereals, Garmin Malaysia, Big Big Place – sports products, San Francisco Coffee, and others.
Race Recap:
The race introduced an elite flag off with a 15 seconds interval between each elite. There was a total of 40 Male Elites and 12 Female Elites.
Wai Ching was being flagged off as the First towerrunner of the day. He sprinted into the stairs and ran at a fast pace for the first few floors and then he maintained his race pace. Right after him, it was Goerge Heimann from Germany, who was ranked No. 4 in the World Ranking. He had a total of 4 races with Wai Ching in 2019 season, 1 win out of 4 races that was when he beat Wai Ching at a middle-distance towerrunning race back in June, by running up a 52 Floors Hotel, 924 steps and 180 meters elevation gained at Gran Hotel Bali, Bernidorm, Spain. He was the biggest threat to Wai Ching as he is a strong towerrunner for this distance, which was close to about 200m.
The following towerrunner was Mateusz Marunowski from Poland. He was a strong sprinter in towerrunning sport especially in the short course as he won 2018 LVM Skyrun Muenster, 18 floors and 360 steps against most of the strong towerrunners. After Mateusz, we had Jeffrey Ross, a Scottish who was based in KL and he was the Veteran Champion for KL Tower International Towerthon Challenge 2016 edition. After him, we had Lo Ching Chun, a young and strong towerrunner from Taiwan, who visited Malaysia for the first time and looking forward to achieve a good performance here. Next, we had Saddam, who was our National Spartan Athlete and he achieved a 3rd placing in the Penang Top International Tower Run two months back in Komtar Tower, Penang. 
Following participant was a Kenyan runner, Hillary and followed by our Malaysia Towerrunners, Chin Hong 
Zhang, Toh Chin Shian and Low Keng Yik.
Throughout the race, there were a total of three water stations, one at 18th Floor, another one at 36th Floor and the last one at the finishing floor, which was 54th Floor. The racecourse consisted of a total of 1,296 steps, 54 Floors up and a total elevation gained of 200m. With each floor consisted of 2 flights of 12 steps staircase, double side handrail, anti-clockwise direction all the ways up until 54th Floor. There were also marshals standby with tablecloths and cleaning mops at almost every floor to wipe the handrail once the handrail was wet because of the sweat.
This race was important as it was the race that Wai Ching would eventually become World No. 1 if he won it. It was also the home ground for Malaysia Towerrunners like Wai Ching, Chin Shian, Keng Yik and Saddam as they trained there two to three times weekly before the race. Therefore, there would be an advantage for them as they had a full understanding about the racecourse.
After about 6 minute and 8 seconds, Wai Ching reached 54th Floor and he was able to keep his best momentum by finished strong. Director of Yayasan TM, En. Abdul Hamid presented the medal to Wai Ching once he crossed the finishing line. Right after he crossed the finishing line, he looked at his watch and counting down for the 15 seconds as that was the time interval between him and Goerge. 15 seconds had passed, and he knew he had beaten Goerge and right now he waited for both Goerge and Mateusz to cross the finishing line. 6 seconds after the 15 seconds countdown from Wai Ching, Goerge arrived at 54th Floor and crossed the finishing line. Goerge clocked a time of 6:21 minute. After about another 15 seconds, Mateusz came and cross the finishing line. Both Mateusz and Goerge were clocking almost the same time and it was remarkably close and we were not sure who would be going to be the 2nd overall men among them.
After a while, we had Jeffrey Ross crossing the finishing line and followed by Ching Chun (Taiwan) and Saddam (National Spartan Athlete). From here, we found out that Saddam overtook Hillary from Kenya as he started 15 seconds behind him. Next, only we saw Hillary came and crossed the finishing line followed closely by Chin Shian instead of Hong Zhang, which meant we knew that Chin Shian overtook Hong Zhang during the run up as Hong Zhang started 15 seconds ahead of Chin Shian. Not long after, it was Francis Kamau from Kenya, which he started way behind both athlete Keng Yik (Malaysia Towerrunner) and David Harris from UK, which had not crossed the finishing line and we knew that he did very well as he overtook both. He was then followed closely by Keng Yik after about 5 seconds.
Based on the above scenario, without checking at the result, we could roughly come out with an unofficial overall podium whereby Wai Ching won the race, 2nd and 3rd Overall were either Goerge Heimann from Germany or Mateusz from Poland. We then had a group photo before we took the lift going down to the race village.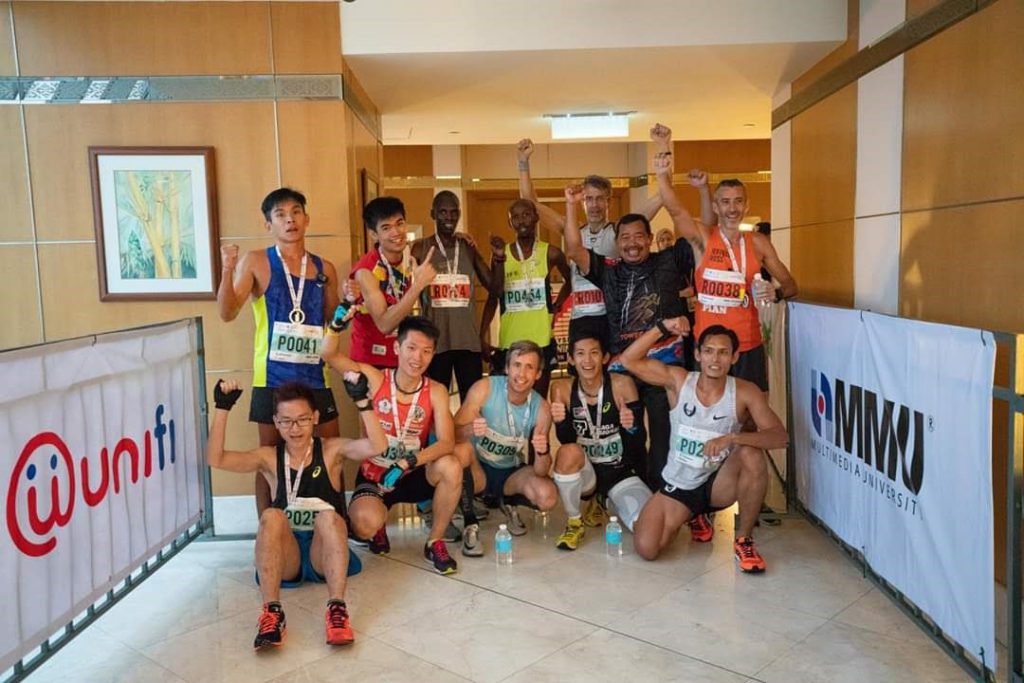 From the women side, we saw Ilona from Poland crossing the finishing line first, followed by a men and we knew that she was strong as she overtook a men since there was a 2 minute break before the men and women. Then it was Michele Tan who crossed the finishing line ahead of Sonja Shakespeare even though she started right behind her, which meant Michele Tan overtook Sonja during the run up.
It was a close fight between both Ilona and Michele as both showed a strong performance that day.
After the women elite category, here was the exciting part as we saw a Domino's Pizza Delivery 'Abang' crossed the finishing line while holding Pizza on both of his hand and delivered it to the Director of Yayasan TM, En. Abdul Hamid. In the end, we were shocked looking at his time spent running up 54 Floors building to the Top floor of TM Tower while carrying the Pizza as it only took him 10:24 minutes, and he ranked 39th out of 442 in Men Open category. Indeed, a fast and speedy delivery service by Domino's Pizza Malaysia! Great job, Mr. Ramachandran.
The whole event was so happening even though the race was in individual flag off mode to ensure the safety of all participants when they were running up the staircase. There were stages of warming up session being arranged and led by REV Malaysia on ensuring every participant had enough warm-up prior to their race. Running up stairs was categorized as a high intensity sport, therefore we must have enough warm up to ensure our muscles were ready to fire and heart was ready to pump fast while taking part in towerrunning sport.
There were so many food & beverages provided by sponsors at the race village for participants who completed their run up. There were Potatoes USA, California Raisins, Domino's Pizza, Nestle breakfast cereal, and Milo.
There were also sport massage provided by Master SY, fitness assessment / mini challenge by REV Malaysia.
Here was how the water station looked like where participants could rest here before continuing their journey to the finishing line. There were 100 plus and mineral water provided. The participants must throw the cup away at the dustbin provided before they went into the stairs.
At the finishing line, there was Malaysia Airlines Stewardess to congratulate participants on their mission being accomplished. We loved to see everyone's happy and satisfied expression at the finishing line. You guys did a great job on completing this awesome tower run! We hoped to see you guys again in 2021 edition and better your time!
There were bread and mineral water by MOMA provided to the participants once they came down by the elevators and the evacuation route was well guarded by the barricade to avoid participants from getting back to the starting line again.
Participants were having group photo with their friends and family who completed the run. Everyone was so enjoyable during the tower run and it was more like a family / gathering event.
Group photos of Top 10 Winners from all Six categories (TM Staff Women, TM Staff Men, Men Veteran, Women Veteran, Men Open, Women Open).
There was a lucky draw segment at the very end of the event. It was a long one as there were so many lucky draw prizes being given away to the lucky participants.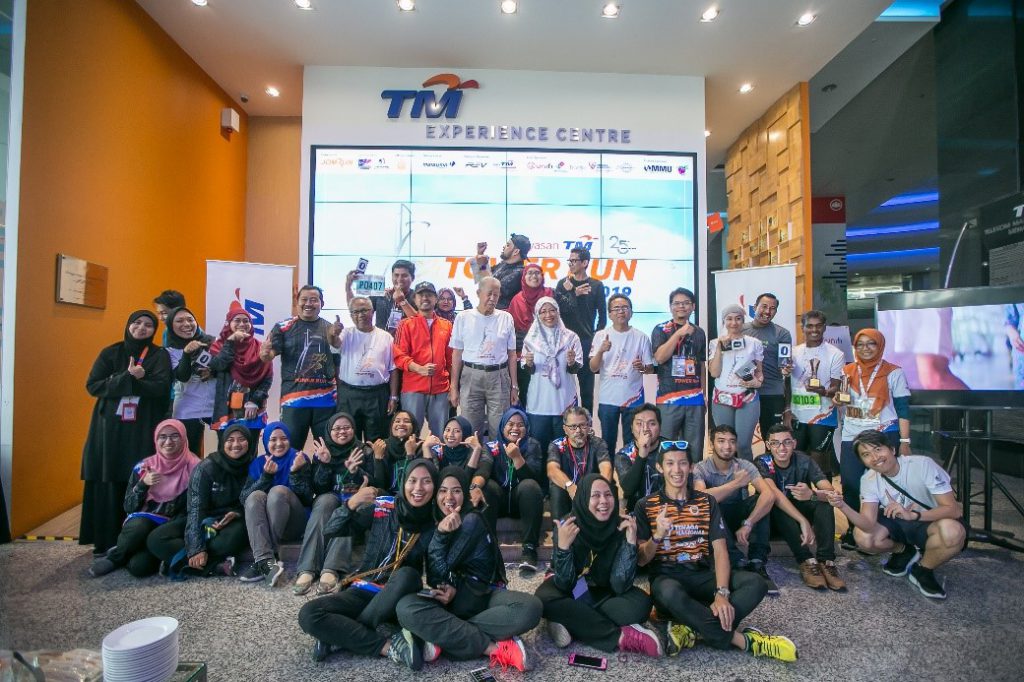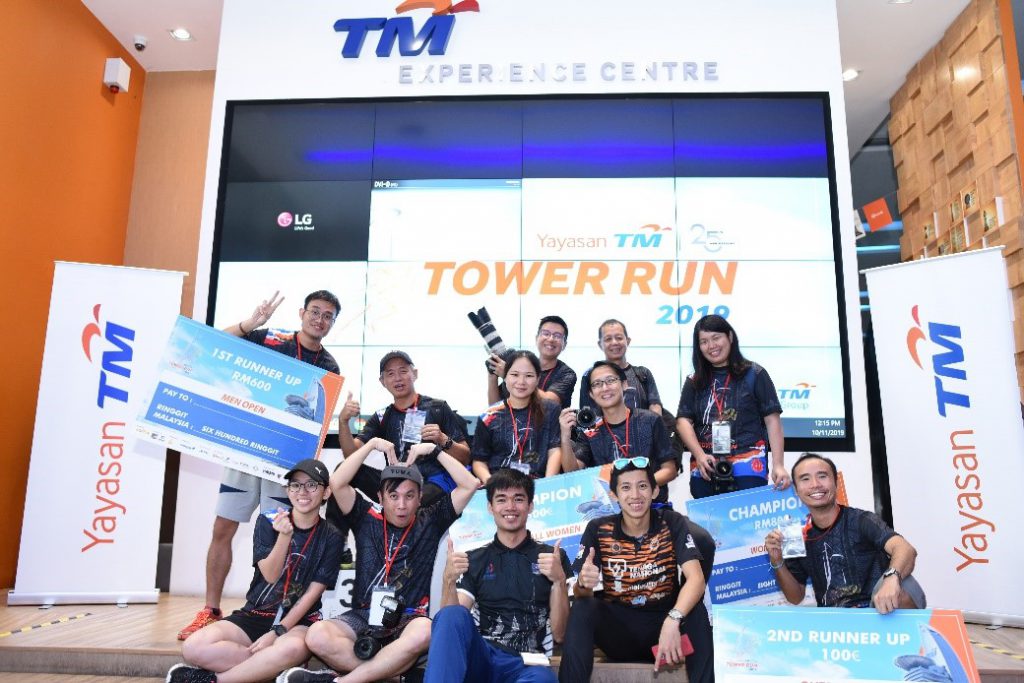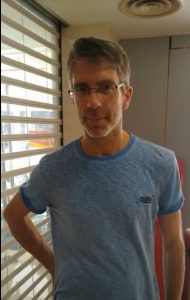 In an interview with Goerge Heimann: It was his first time travelling to Malaysia. He mentioned that the race was well organized with so many sponsors supporting and sponsoring this event. Every participant was able to enjoy the foods & beverages provided. He also told us that his goal was to run a 6:22 minute and he did it exactly 6:22 minute today, which he was incredibly pleased with it. With just 1 second ahead of Mateusz Marunowski to retain a 2nd overall today, he is satisfied with his performance. He also expressed his interest to visit Malaysia again in the future as he would wish to run up Petronas Twin Towers if there was a race for it and to take part on other international races in Malaysia in the future.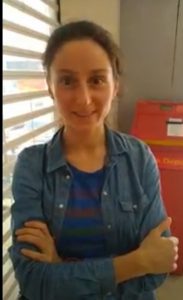 In an interview with Ilona: It was her first time travelling to Malaysia. It was also her 1st time taking part in Towerrunning race in Malaysia. She also expressed that it was a well-organized race that she enjoyed so much! She was also satisfied with her result as she won the race this morning.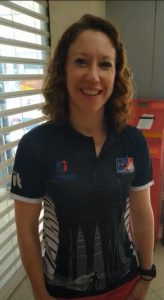 In an interview with Sonja (UK): It was her first time travell to Malaysia. She said "Malaysia is beautiful and is hot. I found the race was tough, hard, very warm and challenging. My race strategy was to go hard and although it did not work well." She also told that she would love to visit Malaysia in the future.
Photo Album Link:
News: