Event info
Date & Time: 15th Sept 2019, 7.30am
Venue: Komtar Tower, The TOP Penang
Racecourse: 249 Meters Elevation Gain, 1,381 Steps, 68F
Point Factor: 60 Points under TWA
Organizer: JomRun Sdn Bhd
Contact Person: Mr. Chang Yi Hern
Email: yihernchang@jomrun.com
Hosted by: The Top Penang
Timing Chip Service Provider: Track Asia
Total Number of Participants: ~950 Pax from 13 Countries (Malaysia, Brunei, Singapore, Hong Kong, Indonesia, Philippines, Thailand, China, Kenya, India, Iran, United States, and Australia)
Objective
Promote THE TOP Penang (Window of The Top, Penang Boutique Aquarium, and Jurassic Research Centre)
Remark
It was the first ever towerrunning race in Malaysia being sanctioned by Malaysia Towerrunning Association. We were glad to have up to almost 1000 participants from 13 countries taking part in this event. This event also got sanctioned under Towerrunning World Association for 60 Points Factor and it was included into the Towerrunning Tour 2019 Calendar.
We were also glad to have the support from Penang Top and Penang State Government in this towerrunning event. Other than that, we were happy to have Towerrunners from Hong Kong, Singapore, Philippine, Southeast Asia obstacle runner, Saddam Pittli, Kenyan runners who were based in Malaysia and last but not least our National Towerrunner – Soh Wai Ching with his title No. 1 in Asia Ranking and No. 2 in the World Ranking taking part in this Tower Run.
Penang Top International Tower Run 2019 provided an elite flag off wave, whereby only the elite participants who fulfilled the criteria could run first with a 15 seconds interval between each elite. The qualifying chart was as below: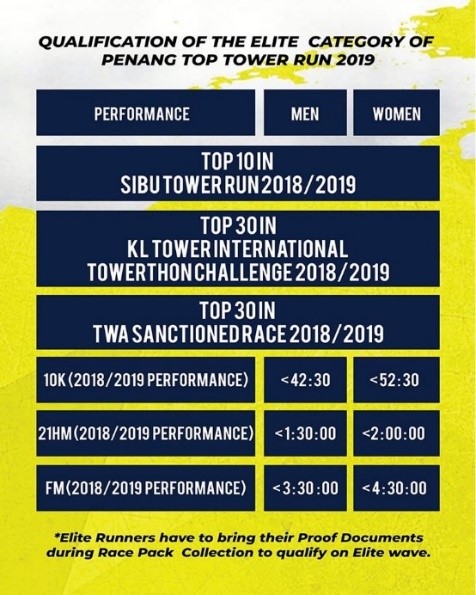 For the elites category, they were being flagged off individually, while other participants were being flagged off in a wave of 4 to 5. This race featured our Malaysia Towerrunners, namely Soh Wai Ching, Mohd Zafrulla, Toh Chin Shian, Low Keng Yik, Chin Hong Zhang, Tan Song Hua; Hong Kong Towerrunner: Tony Au Yeung; Kenyan distance runners, namely: Lel Kipchirchir, Edwin Yebei Kiptoo, Charles Kipkorir Kipsang, last but not least our National Spartan Athlete, Saddam Pittli.
It was an intense race as all the featured athletes were having strong background in their respective athletics. The race started off by Wai Ching, who was ranked No. 1 in Asia and No. 2 in the World in Towerrunning sport, followed by Tony Au Yeung from Hong Kong, No. 53 in the World Ranking. The next participant was Mohd Zafrulla, being the 3rd Best Malaysian in KL Tower International Towerthon Challenge, followed by Saddam Pittli, National Spartan Athlete and currently Rank No. 1 in Southeast Asia.
In the end, it was Wai Ching, who crossed the finishing line first and he won the race with a time of 7:39 minutes and followed by Lel Kipchirchir from Kenya with a time of 8:17 minutes and then Saddam Pittli came back 3rd placing with a time of 8:32 minutes. It was a close fight between Edwin Yebei Kiptoo from Kenya and Tony Au Yeung as both came back 4th and 5th with a 1 second difference with a time of 8:35 minutes and 8:36 minutes, respectively.
For more photos and videos:
https://www.facebook.com/thetopofpenang/videos/767890616978321/UzpfSTEwMDAwMDU1NzE5MDI1MjoyODQ3NTY1MjMxOTM4Njg5/?q=the%20top%20international%20tower%20run&epa=SEARCH_BOX
https://www.facebook.com/thetopofpenang/videos/664128914097053/?v=664128914097053&external_log_id=7a7d5b71-071e-40da-99d9-862798641031&q=the%20top%20international%20tower%20run
News:
Results
Refer on the drive folder link here:
https://drive.google.com/drive/folders/1MRxt0pY44AiQNawwwwu_wH4FkK7Y3Reu?usp=sharing